The qualified team of the Ski School Selva Val Gardena
Whether in private or group lessons, together with our professionally trained ski and snowboard instructors you will spend wonderful hours on the slopes of the ski area Val Gardena in the middle of the Dolomites.
The 120 Ski instructors will teach you the best techniques
to ski safely and will show you the best ways to have fun on the ski transmitting
you all the passion they have for the winter sports.
Our team is composed by former world cup athletes, specialized trainers,
national instructors, cross country and snowboard instructors and instructors specialized
in teaching to children, disabled people and freestyle.
During private or group courses our qualified instructors will lead you to
the most breathtaking spots of the Dolomites and of the Val Gardena ski resorts,
mostly known for the "Sellaronda".
Flavio Prinoth
Director
Tel: 335 204278
Adolf Kasslatter
Ski
Tel: 335 6488894
Alberto Tessarollo
Ski
Tel: 349 6947171
Alessandro Dionisi
Ski
Tel: 348 7731894
Alessandro Robert Luciani
Ski
Tel: 0471 795156
Alex Sommavilla
Ski
Tel: 348 1197366
Alfredo Murer
Ski
Tel: 336 305734
Alois Nocker
Ski
Tel: 339 4181714
Andreas Perathoner
Ski
Tel: 335 6926261
Armin Grasberger
Ski
Tel: 0471 795156
Armin Ploner
Ski
Tel: 335 81511708
Arnold Runggaldier
Cross-country
Tel: 335 6600933
Arnold Senoner
Ski
Tel: 333 3528565
Artur Schönweger
Ski
Tel: 338 7772965
Carlotta Ghidelli
Ski
Tel: 0471 795156
Carmen Comploj
Kids - Ski
Tel: 339 3572264
Catherine Senoner
Instructor - Trainer - Telemark - Kids - Ski
Tel: 333 7107394
Cesare Sozzi
Ski
Tel: 0471 795156
Chiara Nobis
Ski
Tel: 0471 795156
Christine Dr. Mussner
Ski
Tel: 338 8560836
Christine Gruber
Trainer - Ski
Tel: 347 0407152
Claudio De Biasio
Ski
Tel: 348 3210472
Cristina Runggaldier
Kids - Ski
Tel: 338 5251211
Daniele Chiesa
Trainer - Ski
Tel: 338 4515261
Diego Personeni
Snowboard
Tel: 0471 795156
Dietmar Insam
Ski
Tel: 335 354834
Elisabetta Lorenzi
Kids - Ski
Tel: 340 7781396
Fabian Mussner
Telemark - Ski
Tel: 338 1018760
Fabio Zantedeschi
Ski
Tel: 0471 795156
Federico Di Girolamo
Snowboard
Tel: 348 6744900
Federico Potenza
Ski
Tel: 0471 795156
Florian Perathoner
Telemark - Kids - Ski
Tel: 338 9174036
Florian Runggaldier
Trainer - Ski
Tel: 0471 795156
Francesco Degiampietro
Ski
Tel: 366 9819217
Fredi Demez
Instructor - Trainer - Kids - Ski
Tel: 339 8701631
Giorgia Camilletti
Ski
Tel: 0471 795156
Giorgio Callegari
Ski
Tel: 335 6006913
Giorgio De Biasio
Ski
Tel: 339 5355560
Giulio Pedrini
Ski
Tel: 339 8912405
Gregor Plancker
Ski
Tel: 0471 795156
Guido Glück
Ski
Tel: 338 3025306
Guido Lardschneider
Ski
Tel: 335 7078316
Guido Schmalzl
Ski
Tel: 339 2273994
Günter Perathoner
Trainer - Freestyle - Ski
Tel: 333 5463482
Günther Costa
Ski
Tel: 335 6845975
Hannes Spinel
Ski
Tel: 346 5451086
Herbert Senoner
Ski
Tel: 335 5627059
Hermann Runggaldier
Ski
Tel: 339 1600153
Horst Demetz
Ski
Tel: 334 6878249
Ivan Mahlknecht
Ski
Tel: 335 6496330
Jonas Senoner
Ski
Tel: 331 3783877
Josef Mussner
Ski
Tel: 347 9227253
Julia Senoner
Ski
Tel: 333 6048960
Juri Mussner
Ski
Tel: 333 3022122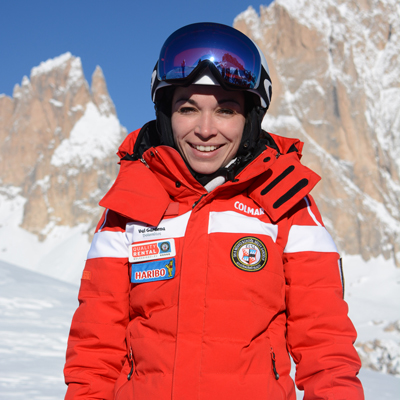 Karin Piazza
Snowboard
Tel: 0471 795156
Karl Mussner
Trainer - Ski
Tel: 335 7368972
Katyuscia Demez
Instructor - Kids - Ski
Tel: 339 5815220
Klaus Mussner
Ski
Tel: 333 9811611
Lara Puric
Ski
Tel: 348 8168273
Leila Demez
Ski
Tel: 338 4361678
Leo Mussner
Ski
Tel: 339 4920333
Leo Perathoner
Ski
Tel: 335 8162467
Lisa Demetz
Ski
Tel: 0471 795156
Lodovico Muratori
Ski
Tel: 333 7608027
Luca Maestrelli
Ski
Tel: 328 0898242
Luca Perathoner
Ski
Tel: 0471 795156
Lukas Senoner
Ski
Tel: 328 5929298
Manuel Nocker
Ski
Tel: 349 0702211
Mara Silla
Ski
Tel: 0471 795156
Marcel Senoner
Ski
Tel: 339 54444784
Marco Kelder
Snowboard
Tel: 333 2129312
Marco Perathoner
Ski
Tel: 338 3822691
Marco Porro
Ski
Tel: 0471 795156
Marco Senoner
Trainer - Ski
Tel: 333 9685825
Maria Senoner
Snowboard
Tel: 334 1735580
Martin Avi
Kids - Ski
Tel: 333 9860526
Martina Frassine
Ski
Tel: 338 1796282
Martina Kasslatter
Ski
Tel: 388 0548762
Matteo Dr. Murer
Trainer - Freestyle - Ski
Tel: 333 2712233
Mattia Tombolato
Snowboard
Tel: 348 8760085
Mauro Bernardi
Ski
Tel: 340 2429752
Michele Bernardi
Snowboard - Ski
Tel: 338 5001339
Mirko Perathoner
Trainer - Ski
Tel: 334 7397766
Norbert Delago
Trainer - Ski
Tel: 335 8122654
Norbert Perathoner
Ski
Tel: 335 6454308
Oskar Delazer
Snowboard - Ski
Tel: 339 4604588
Oswald Mussner
Ski
Tel: 333 7793266
Oswald Runggaldier
Trainer - Freeride - Ski
Tel: 335 6849031
Othmar Senoner
Ski
Tel: 0471 795156
Patrick Demetz
Trainer - Ski
Tel: 335 6089948
Patrick Mussner
Ski
Tel: 338 3382670
Peter Perathoner
Ski
Tel: 338 1018752
Pius Senoner
Ski
Tel: 331 3667270
Raimund Demetz
Ski
Tel: 338 5618480
Raphael Runggaldier
Trainer - Ski
Tel: 333 7728325
Riccardo Demez
Ski
Tel: 338 3032682
Riccardo Perathoner
Ski
Tel: 339 4181717
Richard Delazer
Ski
Tel: 335 8015630
Robert Perathoner
Trainer - Ski
Tel: 335 5411777
Roby Bernardi
Trainer - Ski
Tel: 348 7008696
Roland Dr. Demetz
Trainer - Freeride - Ski
Tel: 335 8282565
Roman Niederkofler
Freestyle - Ski
Tel: 333 3047911
Roman Senoner
Ski
Tel: 339 4181711
Rudi Nocker
Disabled leader - Ski
Tel: 320 7251040
Samanta Soraperra
Ski
Tel: 0471 795156
Samuel Senoner
Trainer - Ski
Tel: 393 9887031
Simon Demez
Ski
Tel: 338 4695372
Simone Congiu
Ski
Tel: 340 0680561
Sofia Russo
Ski
Tel: 349 6035939
Stefan Bernardi
Ski
Tel: 348 7008697
Stefano Pavcovich
Snowboard - Ski
Tel: 0471 795156
Theresa Mahlknecht
Ski
Tel: 0471 795156
Thomas Senoner
Kids - Ski
Tel: 333 5870853
Toni Demetz
Disabled leader - Ski
Tel: 335 6398766
Toni Giglio
Snowboard - Ski
Tel: 328 6814661
Toni Insam
Kids - Ski
Tel: 335 6368500
Ubald Senoner
Ski
Tel: 348 4023980
Ugo Delazer
Ski
Tel: 335 6348200
Ulrich Perathoner
Trainer - Ski
Tel: 335 6791199
Verena Senoner
Ski
Tel: 338 2530563
Walter Runggaldier
Ski
Tel: 338 8062374
Werner Perathoner
Trainer - Ski
Tel: 335 282748
Willi De Sisti
Ski
Tel: 338 1513051
Zeno Denicolò
Kids - Disabled leader - Ski
Tel: 335 6846156